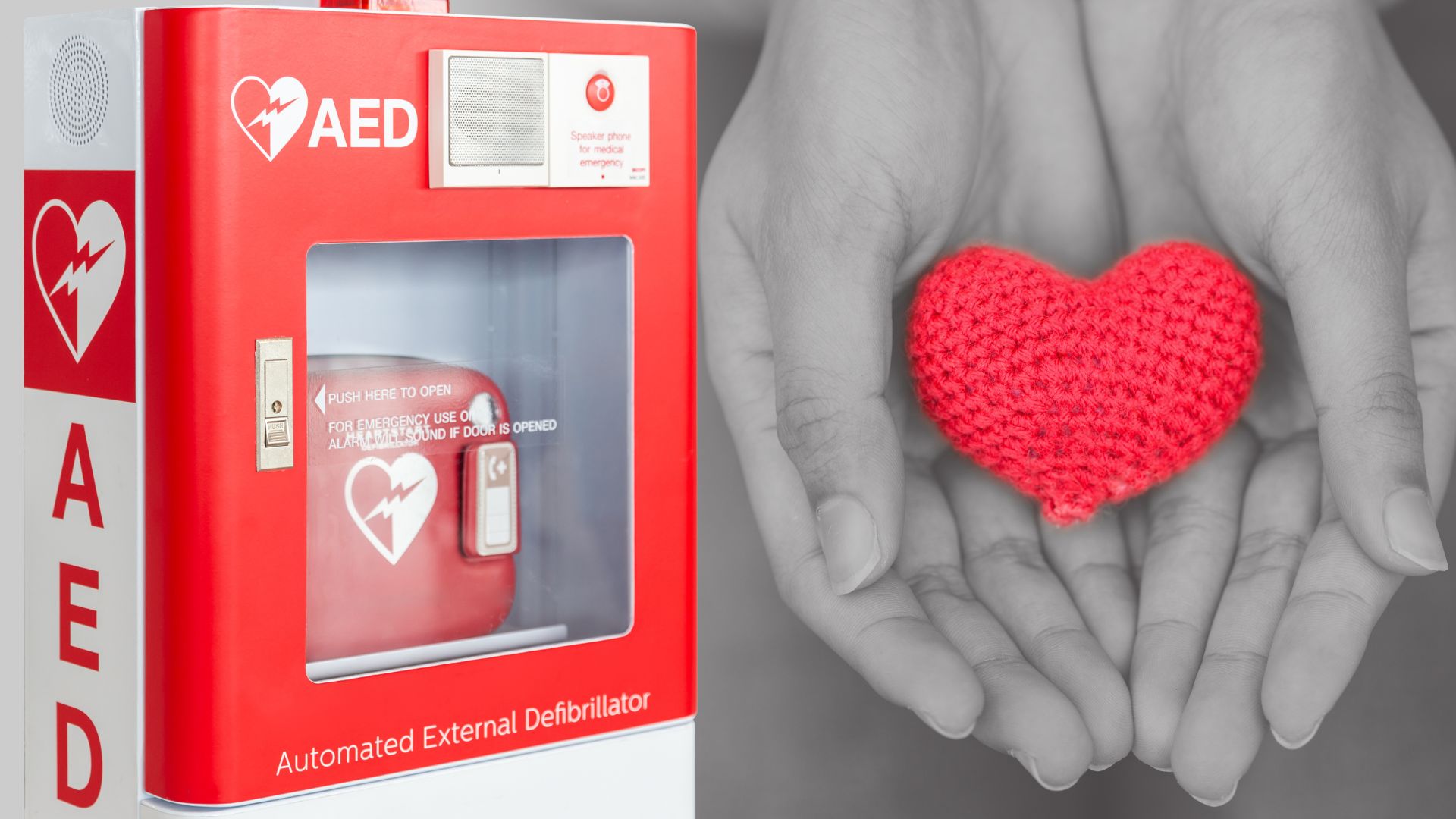 Let's take a look at everything you need to know about the advantages of having an AED in the workplace. Cardiac arrest is becoming a serious health threat for people worldwide. The Occupational Safety & Health Administration reported that around 10,000 cardiac arrests occur in the U.S each year at places of work. Having a cardiac arrest at your workplace can be very dangerous because not enough workers know how to give first aid. Namely, only 1 in 2 people can locate an Automated External Defibrillator (AED) at the office.
Providing CPR and AED within the first few minutes of a cardiac arrest means an increased survival rate. That is why AED training and access to a device is an integral part of every workplace's first-aid program. Continue reading to learn more about the benefits of having an AED in the office.
What Are The Advantages of Having an AED in the Workplace and What Does AED Mean?
Before getting into the device's benefits, you need to understand what AED stands for. Namely, an Automated External Defibrillator helps prevent sudden cardiac arrest by delivering shocks or defibrillations that restore the heart rhythm. Or put in simpler words, AED is a piece of medical equipment that can revive a person's life.
It is no wonder why the interest in both the AED program and device has increased due to its positive impact on survival chances. Bystanders can provide immediate assistance to a victim suffering a sudden cardiac arrest until the arrival of the emergency team. An intervention with an AED used as a lifesaving skill can significantly influence the waiting period and prevent the development of the victim's condition.
However, before even considering performing CPR and AED, you need to do the basic training to apply it accordingly and not worsen the situation. Call 911 and ask for their guidance until the first response team arrives.
Workplace Statistics
The inaccessible location of AEDs at the workplace is one of the main reasons workers cannot use the device. Research on around 2,000 people shows that half of all U.S. workers don't know how to locate an AED at the workplace. Things are similar in the hospitality industry, where a startling 66% of employees are unable to find an AED device.
Working in corporate offices, hospitality, education, and basically any other industry requires employees to also have access to AED or CPR programs. This way, you can raise awareness of cardiac arrests and restore the feeling of safety in their working environment.
Unfortunately, this is still not entirely the case in the U.S., where employers don't offer CPR and AED program training to 55 % of employees. If there is a possibility for training, they are offered either CPR or first aid, but not both.
Common Benefits of Having AED Device at Your Workplace
The advantages of having an AED in the workplace is a good thing to know to understand it's importance. The abovementioned statistics on AED devices at the workplace show employers need more AED awareness. At the same time, to enhance AED training competence, workers need to understand the benefits of this device.
Cardiac Arrests Can Occur Anytime
Whether it is a heart attack or a cardiac arrest, there is always an unpredictable element in these types of heart diseases. Hence, the main benefit of having an AED at work is that you can use it to save a life before an emergency team arrives. This will ensure the staff's safety and protection in the workplace.
Cardiac Arrests Mostly Happen Outside of Hospitals
As previously mentioned, over 350,000 cases of cardiac arrests occur each year in places outside of hospitals. In the medical world, it's called an out-of-hospital cardiac arrest (OHCA). Apart from places like home and public spaces, an out-of-hospital cardiac arrest can also happen in the workplace.
Less than half of the OHCA cases (about 40%) are prevented by lifesaving bystanders, work colleagues or family members. In order to improve CPR and AED assistance, any office set-up should be prepared for emergencies. Hence, employers must incorporate basic training to help employees save their fellow workers' lives.
Bystander CPR Might Not Be Enough
Nowadays, most companies have made CPR training a requirement for their employees. This training involves chest compressions and artificial ventilation to keep the brain functioning.
However, in most cases, more than CPR is needed to buy a reasonable amount of time for the patient as the chances are pretty low. Hence, combining AED with CPR drastically increases the chances of a patient's revival, which is quite a significant improvement that should not be taken for granted.
The Work Environment Can Initiate Heart Strain
The advantages of having an AED in the workplace include one due to the rise in heart strain in the workplace. A day at the office may cause some people many stressful situations and unpleasant feelings. Working involves a lot of intensive activities or deadlines which may influence the body and the mind. If an employee is not coping well with his employer's demands, he might begin to suffer from heart complications, among other medical conditions.
A study focusing on work-related stress has shown a higher chance of heart disease by about 23% in tense office surroundings. Experts also explore the relation between depression and heart disease. Suppose an employer is ready to take action to enhance the feelings of safety and security in the working environment. In that case, having an AED device is probably the best place to start.
You Don't Have to Be a Doctor to Use It
AED is a medical device made with a layperson in mind. Thanks to the simple instructions, you can learn how to use it and apply it to a person in need. Plus, your staff can develop their life-saving skills once they understand how to use this simple device.
However, the awareness of responsibility is of crucial importance when it comes to helping a person in need. So make sure you undergo an adequate AED program or training before helping a victim. In an emergency situation, you are likely not to respond rationally and act accordingly if you see the instructions for the first time. This is the reason why AED and CPR training is essential.
Easy to Incorporate
AED devices can be set up anywhere in the workplace. Due to the convenience of this device, the only decision you will need to make is whether to put it on a clearly marked shelf or mount it on the wall. Moreover, you don't need any additional skills to mount an AED cabinet so long as all employees can access it.
Also, ensure they are informed about its existence and location. Why? Because statistics show that one of the main problems for employees' lack of AED use is the inability to locate this device at the offices.
Protected with Good Samaritan Laws
In some cases, using an AED device to restore a patient's life might end in disaster if not operated properly. This may lead to legal action, with someone filing a lawsuit against the bystander offering assistance, which also applies to workspaces. However, the Good Samaritan Law protects anyone who uses the AED device in good faith. Namely, when it comes to giving help to a person in need, these will preserve your innocence regardless of whether you are home or at your office.
Saving Money or Saving Lives
It's common knowledge that the cost of a good AED device is high depending on the quality or design. Whether it is an office set-up or another type of corporate environment, this is a contribution one should not hesitate to make.
Even though an AED device may be pricey for small businesses and homes, there is no reason justifiable enough to prevent you from investing in a life-saving device like AED. Namely, the safety and contribution of your employees are for sure more valuable than the cost of this device.
Wrap Up: The Advantages of Having an AED in the Workplace
We highlighted the importance of having an AED in the workplace ranging from reviving a life to ease of use. The unannounced moment of cardiac arrests and other heart diseases makes it crucial to learn how to respond immediately in those inconvenient situations in the office. But before considering doing CPR and AED on a victim, you should first call 911 for the emergency team to take over the case as soon as they arrive.
There are still multiple benefits for this medical device and proper training courses, which is why any workplace should prioritize health investments. AED programs and transparent access to AED devices at your workplace can make all the difference in the world and provide safety for all employees. Now you should have a good understanding of the advantages of having an AED in the workplace.